4 Health Issues You Should Stop Overlooking
Feb 15, 2019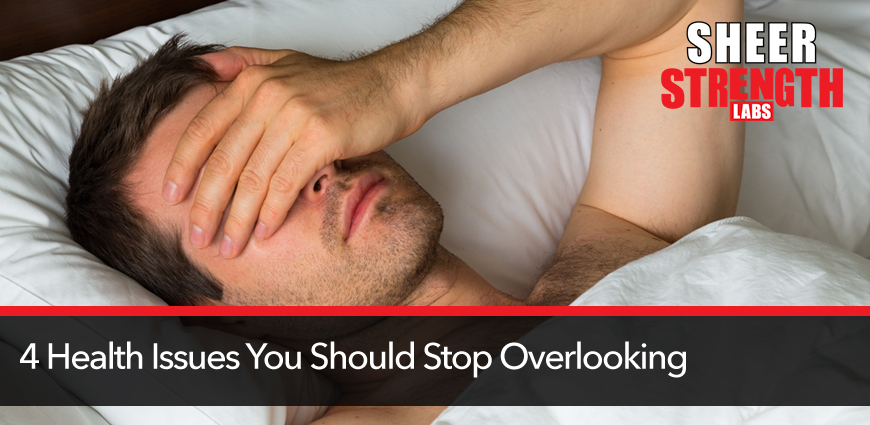 Health is a broad term that may mean something different to everyone reading about it. However, there are a few common threads that reign true for all men.
Creating a plan for your success is integral in your overall health and wellness.
Well depending on what you do for a living or how you live or what experiences you've had in life this can mean many different things.
Health refers to many aspects of the human body that gauges how well we are able to perform, respond, behave and survive within our environments.
We are all aware of the premise behind going to the doctor for ailments and other illnesses, but what do we do to stay healthy?
Some of the most obvious, yet unattended methods to ensure good health and wellness include going to the dentist to make certain that our teeth and gums are healthy. Gum disease and tooth decay are big reasons for the loss of teeth which leads to a lessened quality of life as well as decrease in lifespan.
In addition to dental health, eye care is essential as it can detect and determine other diseases that may be occurring (early onset) such as diabetes.  These are just a few reasons behind the aforementioned that display how important it is to keep up with the not so popular thoughts on health and wellness.
What about one of the largest reasons for people to visit the doctor? What could this be? 
Well, this affects hundreds of thousands of people and even millions per year! The culprit is lower back pain. 
How does one monitor or maintain back health? 
Is it possible to lessen or even eliminate back pain? 
Can you avoid back pain with the right plan of attack? 
Although it appears to be difficult, back health doesn't have to be so overwhelming. Learning about the early warnings or signs of back pain can help save you from a more serious problem such as bulging disks, herniated disks, spinal fractures, compression of the vertebrae and sciatica.
Some of the early warning signs include pressure in specific areas, pain down your leg or even sharp pain that is similar to a firing pain and finally, the feeling of pins and needles or numbness which can all be very serious issues.  These all should be communicated to your physician for accurate diagnosis and plan for correcting the issue.
Finally our discussion has led us to one of the most overlooked areas in health for men, mental health. 
Men are the most likely to be put on medication for mental health issues and yet we often keep a lid on what we feel is "not normal" to avoid not fitting into the social construct that exists around mental health. Remember, all services provided to you from any practitioner whether it be someone in mental health or your general practitioner it all must be held confidential.  This means that you decide what people know! Understanding "you" is important and essential in being the best you possible. Mental health does not have to have such a stigma associated with it as it helps performance and productivity in all areas of our lives.
Awareness of who we are (our GPS) helps us find our true north in life. Instead of fighting against issues or suppressing them why not try to overcome them?
In closing, it is important for us to take care of ourselves and be aware of the signs our bodies give us. Understanding what it takes to help ourselves is important and provides us a road-map to our health.

The post 4 Health Issues You Should Stop Overlooking appeared first on .